RECIPES


Stuffed Mushrooms with Oregano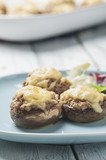 These lovely appetizer bites can be creatively altered depending on your taste---initially a vegetarian dish, the addition of crab meat, chopped cooked clams, or even bits of sausage or bacon can be added to this versatile recipe.  Really wonderful with a fresh tossed seafood Caesar salad ---add a loaf of warmed sourdough or artisan whole grain bread and you have a wonderful late spring/summer meal---simply elegant and so yum!
12 large mushrooms (we prefer brown crimini vs. white mushrooms but either will do)
3 tablespoons olive oil
1 garlic clove, minced
1/3 cup chopped parsley
1 tablespoon chopped fresh oregano
1/3 cup fine dry bread crumbs
1/4 cup  freshly grated parmesan cheese
Additional parmesan cheese for topping on mushrooms (optional)
Salt and freshly ground pepper to taste
1/2 cup dry white wine (may substitute broth or even clam juice if using clams for stuffing) 
Preheat oven to 350 degrees.
Wipe mushrooms clean.  Remove stems, mince and set aside.  Heat olive oil in small sauté pan and sauté the chopped stems with the garlic over moderate heat about 3 minutes.
Remove mixture from heat and add the parsley, oregano, bread crumbs, and parmesan cheese (and/or whatever additions you want to make).  Season with salt and pepper to taste and blend mixture well.
Divide the stuffing among mushroom caps, packing and mounding it gently.  Add the prepared mushrooms to a lightly buttered 8 inch square glass or ceramic baking pan (can also bake in a ceramic round such as a large pie pan or gratin dish). 
Add the wine to the dish and bake the mushrooms for 10 minutes.
Sprinkle additional parmesan over the mushrooms for topping as desired. 
Place the dish under a preheated broiler about 2 inches from the heat for about 1 minute, or until the tops are golden brown.  Transfer the mushrooms with a slotted spatula to a warm platter.  Serve hot or warm. 
Enjoy and make sure to tell you guests that the herbs come from your own garden...very special!
Initial recipe adapted from Herbs in the Kitchen, a celebration of flavor by Carolyn Dille and Susan Belsinger


Rosemary Roasted Potatoes
A simple yet aromatic and delicious dish (perfect as a side with meats, fish or vegetarian fare)
4 to 6 small red, yellow or assorted potatoes, scrubbed and quartered
1 onion, chopped
1 tablespoon butter
1/2 teaspoon freshly ground sea salt (optional)
1/4 teaspoon freshly ground black pepper
Sprig of Rosemary leaves (removed from stem and chopped fine)
Olive Oil
Preheat the oven to 350 degrees Fahrenheit.  Spray a 2 quart casserole with olive oil. Place the potatoes and onion in the casserole. Dot with the butter and sprinkle with the salt and pepper.  Top with the rosemary.  Bake, covered, until the potatoes are tender, about 50 minutes.  Enjoy!

 
Salmon in Sorrel Sauce
This is a wonderful recipe for using the plentiful fresh sorrel that grows in our kitchen garden.  It adds a sweet-tart flavor to the sauce and is lovely as a spring supper dish!
Serves 4
3

tablespoons butter

Large Salmon Fillet (fresh caught is best)

2

cups fresh sorrel leaves, chopped rough

1/4

cup fresh chervil (can substitute with parsley or even tarragon if chervil unavailable)

1/2

cup fresh chives, chopped

1/2

cup heavy cream (or crème fraiche)

salt and pepper to taste
Adjust an oven rack to be about six inches from the broiler. Preheat the broiler.
When the oven is ready, start the sauce. In a large, wide skillet, melt the butter until it starts to toast. It should be golden brown. At this point, put the salmon skin side down on a lightly oiled broiler pan under the broiler.                
Add the sorrel, chervil and chives to the butter and coat quickly. Allow them to wilt a little, and then pour in the cream. Bring to a boil and reduce sauce slightly (if using crème fraiche lightly stir for a thicker sauce).                   
The salmon is ready once it starts to become opaque with milky-white juices (and you can flake it with a knife).   
Spoon sorrel sauce over the salmon and serve immediately.
Recipe adapted from the original recipe for Salmon with Sorrel Sauce by Mrs. Wheelbarrow